Melsmon Human Placenta Extract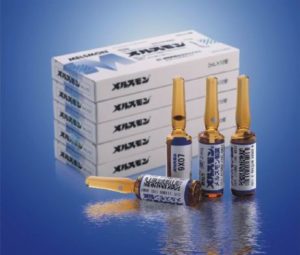 Originally from Japan - 2ml/vial x 50 ampoules in 1 box
Manufacturer: Melsmon Pharmaceutical (Merusumon pharmaceutical)
Product Contains: Melsmon Cell Revitalization Extract 100 mg / 1 vial
Main content: Nucleic acid, amino acids, natural placental immunoglobulin, cell growth factor group, multi-type collagen ingredients and nutrients.
Medical Site: http://www.melsmon.co.jp/
What is Human Placenta?
The placenta acts as an agent between the mother's baby and the embryo when a new baby is formed in mammals, enabling it to develop and grow using oxygen and nutrients from its mother.
The placenta has a history of medicinal use starting more than 2000 years ago.
1) It was used as an elixir of eternal youth during the Qin Dynasty in China.
2) It was used as a nourishing herbal medicine for physical and mental tireness and weakness in Ming Dynasty.
3) It was used for rejuvenation and beauty Cleopatra and Marie Antoinette during the ancient time.
Currently, placenta extract is available in Japan in the form of inj as an oral medicine and as health food and beauty products
Nutrients in Human Placenta
Human Placenta contains of three major nutrient groups - carbohydrates, proteins, and fats, and also a wide range of nutrients such as minerals, vitamins, enzymes and nucleic acids.
1)   Amino acid (the basic building blocks for protein) Lysine, Asphastic, Acid, Leucine, Glutamic Acid and etc. Placenta contains more than 30 kinds of amino acids, including 8 essential amino acids such as cystine, cysteine, leucine, arginine, serine and jiric acid. Amino acids are the basic substances that make up proteins in human cells. Therefore, it is the basic unit of tissue repair, the constituent components of enzymes and hormones, and some of the energy is also derived from them. It plays an important role in the growth and development of adolescents and the health and longevity of middle-aged and elderly people.
2)   Protein Casein and phosphoprotein. Human Placenta is rich in multi-type collagen, the skin ageing with the increase of age, the collagen component in the skin dermis is degenerated, the collagen component is reduced, the skin's toughness and elasticity are reduced. Once when the collagen component is supplement, it will restore the elasticity and toughness of the skin.
3)   Natural placental immunoglobulin, Enzymes  Alkaline phosphates, Creatine phosphokinase and more than 55 types of enzymes. (Placenta contains almost all the essential enzymes required by the human body) Placental tissue fluid is rich in HGG, TSH (thyrotropin), prolactin, steroid hormone and antibody protein, especially for women with severe skin aging.  It can improve sexual function, delay the thinning of vaginal mucosa and the relaxation of perineal sphincter. It also heals endocrine disorders caused by menopausal syndrome and irregular menstruation, it improves skin wrinkles, pigment spots and so on. Antibody proteins can improve the body's resistance to infectious diseases especially respiratory and gastrointestinal diseases.
4)   Sugar  Glucose, fructose, lactose
5)   Nucleic acid elements Uracil, Adenine, Guanine, Thymine, Cytosine, Xanthine. Nucleic acid is the basic substance in the human nucleus and plays an important role in cell growth and proliferation, especially in maintaining the normal metabolism of skin tissue, promoting the vitality of skin cells and enhancing the repair of damaged cells. It determines the aging process of cells.
6)   Minerals  Calcium, sodium, potassium, phosphorus, zinc and iron.
7)   Vitamins  Vitamin B, vitamin V+B2, Vitamin B6, Vitamin C, Vitamin E and Folic Acid.
8)   Fats, lipase Cholesterol, phosphate and etc
9)   Polysaccarides  Mannose, acemannaus
10)  SA Amino Acid  Super active amino acid
11)  Various growth element
Human placenta is rich in epidermal growth factor (EGF), basic velvetleaf growth factor (BFGF), platelet growth factor (PDGF), transforming growth factor (TGF), islet cell growth factor (IGF) and Cell growth factor. All of these factors promote the production and division of the corresponding cells. Skin cells, fibroblasts, vascular endothelial cells, smooth muscle cells, etc. are activated and grown. TGF also activates fibroblasts, inhibits the keratinocytes at the outermost layer of the epidermis, and synergizes with the cell growth factor group to significantly improve the skin, improve skin metabolism, and maintain skin radiance.
Even though some of the nutrients present in small quantity, but they are capable of promoting bodily growth and these include trace elements for the healthy development of nervous system, skin and blood vessels.