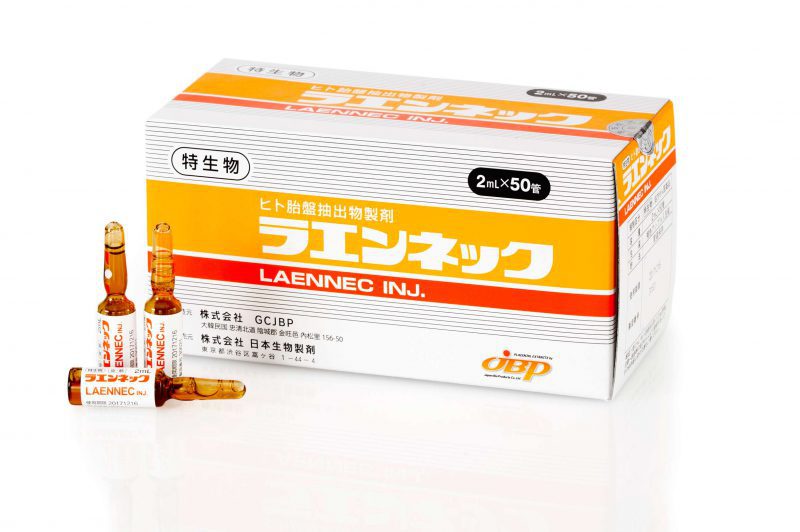 Manufacturer: Japan Bio Products Co., Ltd.
Product Contain: Human placenta extract 112 mg / 1 vial
Packaging: 2 ml x 50 ampoules/ Box
Description: This product is a light yellow-brown or yellow-brown clear liquid with a distinctive odor. The pH level ranges from 5.5 to 6.5 and the osmotic pressure ratio (to physiological saline) is approximately one.
Laennec Human Placenta is the ethical drug type placenta product manufactured with JBP's unique technologies for effective extraction of variety of growth factors, cytokines, and other physiologically active substances from the human placenta. For instance, HGF (hepatocyte growth factor) promotes the proliferation of hepatic parenchymal cells for recovery of a damaged liver. Our product safety is ensured by the most rigid safety measures among existing scientific standards.
The placenta, which plays a role in building the body of a person has almost all of the nutrients necessary for life. Of course, proteins, lipids, and carbohydrates, which are the three major nutrients, and the physiologically active ingredients such as various vitamins, minerals, enzymes and nucleic acids, exist abundantly.
Abundant Elements Included in Human Placenta
| | |
| --- | --- |
| Amino acid | Essence of life. Has various physiological functions |
| Protein | Nutrient that builds a person's body. |
| Carbohydrate | Becomes an energy source and maintains the structure of cells. |
| Vitamin | Adjusts physiological functions and makes metabolism smooth. |
| Nucleic acid | Restoration of genes, adjustment of metabolism. |
| Biologally active peptide     | Central element placenta, demonstrating a medicinal effect. |
| Lipid and fatty acid | One of the important materials used to make cells. |
| Mucopolysaccharide | Element to connect between, cells, works to suppress inflammation. |
| Mineral | Various roles, such as the adjustment of blood and biological fluids, etc. |
| Enzyme | Assists with a chemical reaction in vivo. |
Placentas that contain abundant nutritional contents such as these in the mother's womb, support the variety of physiological functions necessary for the baby's growth.
Methods of Usage and Recommended Dosage
Dosage: One ampule of 2ml Laennec Placenta,  every 2-3 days.
Note: JBP Laennec Human Placenta is ONLY administered via Subcutaneous inj. / intramuscularly (IM) only 
NOT ADVISIBLE TO USE LAENNEC PLACENTA DURING:
Breast feeding period
Menstrual Period
Patient with cardiovascular problem
Patients examined with tumors such as Adenomas, Fibromas/ Fibroids
** The effect of Laennec placenta extracts highly relies on the individual's age and health condition. Effects can be seen as fast as one week in some patients and may take as much as 60 days in others.