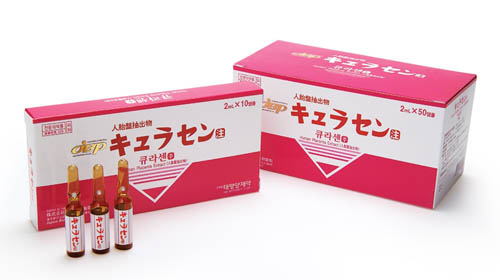 JBP Curacen placenta anti aging inj is the ethical drug specialized for beauty/cosmetic purpose, because of its high penetration capability into the skin as it consists of the lower molecular weight substances from the human placenta. An effective ingredient extracted from human placenta essence and is a pharmaceutical product manufactured by JBP's exclusive technology.
JBP CURACEN placenta inj is made by JBP Korea Yinshi County factory, from the collection of placenta raw materials to the manufacturing process, the most demanding the highest degree of security, the implementation of anti-virus, bacteria and other infections, and the implementation of scientific verification and other means.
Curacen is the first mesotherapy drug for active regeneration of tissues, obtained from the human placenta by a patented molecular fractionation method with the use of nanotechnologies, which provides complete drug safety, purification from ballast components and hormones, while preserving growth factors, low molecular weight peptides , Cytokines, amino acids, nucleic acids and the whole range of useful biologically active substances.
In Comparison of high molecular weight of the cell regeneration effect of LAENNEC, CURACEN in the manufacturing process with the use of different amino acid protein decomposition method to produce, the molecule is very small, is a low molecular placenta inj, easier to accelerate skin absorption.